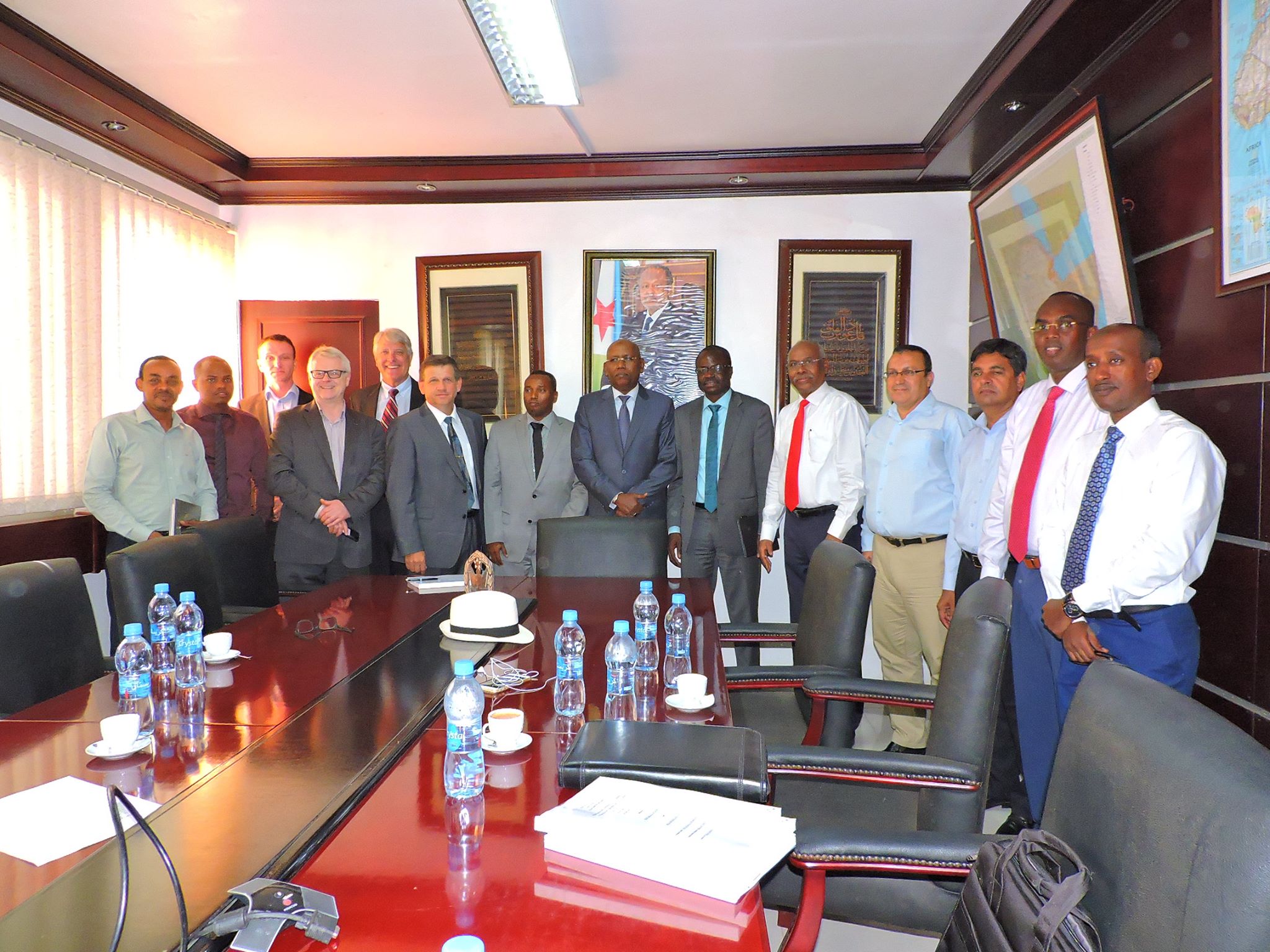 June 2017
Electricité de Djibouti (EdD) has completed an agreement with Iceland Drilling Company (IDC) for geothermal drilling works in the Fiale Caldera area within the Lake Asal region of Djibouti.  The geothermal area is 100 KM west of Djibouti city.  The drilling contract was signed on the 21st of May 2017.The project involves the drilling and testing in 2018 of 2 geothermal wells to a depth of 2500 meters, and 2 optional wells.  The purpose of the drilling is to explore the geothermal field and to confirm the characteristics of the resource.  To conduct and manage such an important geothermal project EdD settled a Project Management Unit led by a Director from Société Tunisienne de l'Electricité et du Gaz (STEG), and, assisted by the Center for Studies and Research of Djibouti (CERD), the Office of Geothermal Development (ODDEG) and international and local consultants.
The Geothermal Consulting Company team lead by Geologica Geothermal Group (Geologica) and Veizades and Associates (Veizades) from the USA is supporting EdD in the design, procurement, implementation for geothermal resource development and feasibility study for geothermal power generation at Fiale Caldera.  The project is jointly financed by the Government of Djibouti and will receive grants and loans from the World Bank, AfDB, OFID, AFD, GEF and ESMAP
According to Sigurdur Sigurdsson, CEO of IDC, the agreement marks a new beginning as the first project for IDC in East Africa.  We look forward to creating value for our client in Djibouti.
According to Mr. Djama Ali Guelleh  Directeur Général of EdD,Geothermal energy is an important element to increase the country's energy security of supply.  It is a base load supply of low cost environmental friendly energy.  We are pleased to sign this contract and look forward to working with Iceland Drilling Company.  Signature of this contract is a major milestone for this project and represents the hard work of the team
About Iceland Drilling Company
Iceland Drilling Company Ltd (IDC) is a leading company in the field of high temperature deep geothermal drilling and has many decades of experience in both high and low temperature drilling. The company operates internationally, and possesses a fleet of new hydraulic rigs and modern drilling equipment that can be transferred swiftly from one part of the world to another.
The company has well-grounded expertise in international deep drilling projects, with a record of several hundred high temperature geothermal wells.
The company's operations have been in the Azores (Portugal), UK, Denmark, Ireland, Hungary, Germany, Nicaragua, Philippenes, Caribbean, (Dominica and Montserrat) Switzerland and in New Zealand.  Currently the company is working in Iceland, Caribbean, and Nicaragua.
About Electricité de Djibouti (EdD).
Established on January 21, 1960, EdD is a Public Institution with an In
dustrial and Commercial character placed under the tutelage of the Government of the Republic through the Ministry of Energy, in charge of Natural Resources. EdD has a legal monopoly on the transmission and distribution of electrical energy throughout the country.
Act No. 88 / AN / 15 / 7th L, promulgated on 03 March 2015, allows independent electricity producers to participate in the production of energy via a negotiated purchase contract with ESD. EDD must ensure the continuity and quality of service to the public electricity supply service.
About Geologica and Veizades
Geologica Geothermal Group, provides high quality global geothermal resource exploration, development, and assessment services and environmental consulting services for private and public sector clients located around the world.  Geologica's senior professionals have over 30 years, in disciplines related to geothermal resources from the initial stages of exploration, development, assessment, production and operations as well as environmental impacts and regulatory compliance.
Veizades and Associates is a geothermal engineering design firm specializing in design of geothermal surface facilities including fluid gathering systems and wellfield desgin, separation stations, gas management and abatement, balance of plant, control systems in addition to overal project management and construction and start-up oversight for geothermal power generation.  Veizades has been a leader in geothermal engineering since 1979.