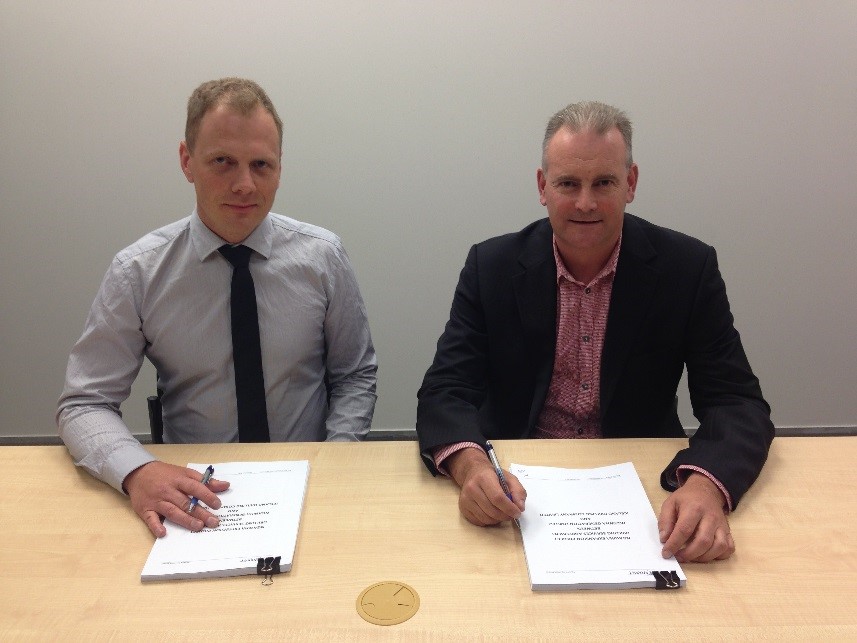 From the signing ceremony, left Gunnlaugur Sigurdsson from Iceland Drilling NZ and to the right Russel Shaw CEO Top Energy.
January 2018
Ngawha Generation Limited and Iceland Drilling NZ have started collaboration on a new drilling project in Ngawha, New Zealand, and an agreement to that effect was signed on the 21st of December 2017 at Top Energy Ltd offices in Kerikeri.
Top Energy owns the Ngawha geothermal power station, which has been operated since 1998.  Ngawha power station which is located 54 km north east of Whangarei currently has the capacity of producing 25 MWe or 70% of all electricity consumed in the Northland area.
The new drilling project involves the drilling of up to 6 wells, which is expected to add another 20-25 MWe to the current capacity.  Top Energy have already engaged ORMAT to build the new power plant which is expected to be commissioned in 2021.
Iceland Drilling NZ will transport their HH-220 Drillmec rig to Northland, New Zealand.  Spudding is expected to take place April/May 2018.
According to Sigurdur Sigurdsson CEO of Iceland Drilling Company (IDC). We are pleased to sign this contract and are looking forward to using our geothermal expertise together with our client.  This is IDC's seventh drilling contract in New Zealand.